25 of the Coolest and Most Practical Kitchen Accessories
|
You're probably (most definitely, in fact) well aware of some of the more common place kitchen accessories.
Ovens, fridges, kettles, toasters, microwaves – you get the idea. These are all utensils that you make use of a daily basis while preparing food, cooking it or just grabbing a snack.
But what about some of the less recognisable or under-appreciated kitchen accessories available for purchase? Is there a particular kitchen accessory that could hold a very valuable practical use that you've never even been made aware of? Perhaps there is. Well, if indeed there is something that has escaped your attention, you're in luck, and you've come to the right place. Below is a list of 25 kitchen accessories and time-saving pieces of equipment that could improve both the aesthetic appeal of your kitchen and its practicality.
1. Inverted Chopping Board
Isn't it annoying (or just careless) when you pour your chopped-up fruit or vegetables into a pan only for them to go everywhere? This inverted chopping board should make life easier then.
2. Coffee Indicator Cup
A coffee cup that indicates just how strong or weak your cuppa is – genius, no more moaning from those ungrateful recipients then!
3. Scale Chopping Board
Another chopping board already?! Yes, get over it. This one can weigh how much you've chopped up. Shame it can't prevent you from spilling it everywhere when you pour it into a pan though.
4. Write-on Toaster
A toaster that allows you to write your own personal message on the bread. This is probably one of those items that seems like a good idea before getting particularly tiresome.
5. Salt and Pepper Battery Containers
Nothing particularly ingenious about these – they just look kind of cool (and this list does specify the "coolest", ok?).
6. Cheese Grater Guitar
Grating cheese – the most monotonous of tasks – just became fun. What's there not to like about this?
7. Toolbox Pizza Slicer
A pizza slicer that takes the form of a toolbox saw. Is it electric? No, unfortunately not.
8. Toast and Egg Maker
If you love your egg on toast then this is the appliance for you. There's no need for extra cooking equipment like frying pans – simply crack in your egg and pop in your toast!
9. Utensil Storage
This one is a bit more of a DIY effort. Old chopping boards converted into storage for cutlery.
10. Egg Separator
A squeeze egg separator that perfectly removes your egg white and your yolk – if you're particular like that.
11. Knife Storage
Need a place to store all those sharp knives? This funky little red man will do the work for you. Just don't go throwing any knives.
12. Egg and Soldier Set
A neat egg and soldier set taking the form of what seems to be a castle and horse (for your soldier, of course).
13. Facebook Like Oven Glove
Ok, so this might not be particularly "cool" per se, but at least it's useful. The extra thumb room should afford you the space to grip your hot trays easier.
14. Milk Carton Set
Store your milk, butter and sugar in old school style cartons. Yeah, there's not too much more to say.
15. Chalkboard
A chalkboard is always useful for writing down shopping lists, meal plans or even whose turn it is to do the washing up.
16. Wine Bottle Opener
A robotic-like wine bottle opener – for all that wine you drink.
17. Recycle Bin Storage
Too many bins and too little room? Stick them in a drawer.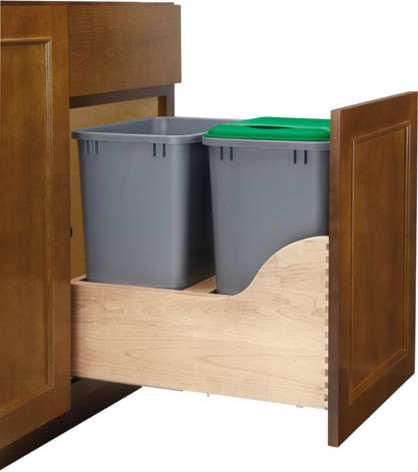 18. Egg Shaper
Desire the perfectly shaped fried egg for your sandwich? This is just the kitchen accessory for you.
19. Heat Indicated Coffee Cup
Ever unsure about whether your brew is still hot enough to enjoy (without the perception of time, of course)? This mug will indicate when your cup of coffee (or any hot drink) is piping hot and when it's stone cold.
20. Fruit Rack
Move away from the traditional fruit bowl and try this rack in the style of a bowling ball holder. Pretty neat, right?
21. Salad Serving Plant
To the untrained eye, this may not seem like a kitchen accessory – more like a plant. In fact, it's a salad server.
22. Apple Peeler
Avoid the hassle of peeling off an apple skin with the peeler machine that will do all the hard work for you in matter of seconds. A real time saver.
23. Mounted Teapot
Never scold yourself again with this mounted teapot.
24. Automatic Paper Towel Dispenser
Why take the effort of ripping off your own paper towels when this machine could do it for you? Exactly.
25. Voice-recognition shopping list
Avoid the trouble of writing shopping lists down on scraps of paper by using this voice-recognition device which saves your recordings and then prints them in the form of a receipt whenever you wish to go to the supermarket.
Author Bio: This list of cool and practical kitchen accessories has been compiled by Matthew Wood who is contributing on behalf of the DIY Kitchen supplier Finsa Home.